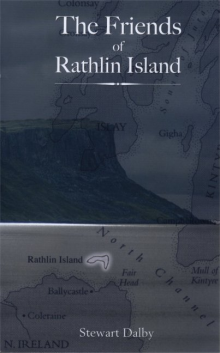 THE FRIENDS OF RATHLIN ISLAND
by Stewart Dalby
Three divers working for the Police Force of Northern Ireland are shot dead as they step ashore on the Ulster mainland after leaving Rathlin, an island in the straits between Northern Ireland and Scotland. The shootings appear to be sectarian and could spark a return to violence in the Province after years of uneasy peace.

A clue to the killings lies in a document left on Rathlin with Jackie Wilson, an anthropologist. He believes he is a neutral bystander in the age-old conflict, but in reality he is buffeted by conflicting loyalties. His girlfriend is a Catholic journalist in Dublin with strong republican leanings, his friend is the husband of a British Cabinet Minister and his brother is a senior officer in the local Royal Irish Regiment, brought up, like him, in Ulster as a member of the Protestant ascendancy.

Pursued by all sides, he tries to unlock the secret of the document. He slowly discovers that the seas round Rathlin hold secrets that could change the future of Northern Ireland. But at the same time he becomes painfully aware that there is no sitting on the fence in Ireland, as he confronts his past and his life in terms of love, commitment and betrayal.
Paperback (13.8cm x 22cm) 312 pages
ISBN 0954423399
Reviews of THE FRIENDS OF RATHLIN ISLAND
"An original and innovative storyline." Irish Times

"Very intriguing" Irish Independent