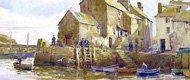 Cornwall's Forgotten Art Centre
Posted on March 26, 2021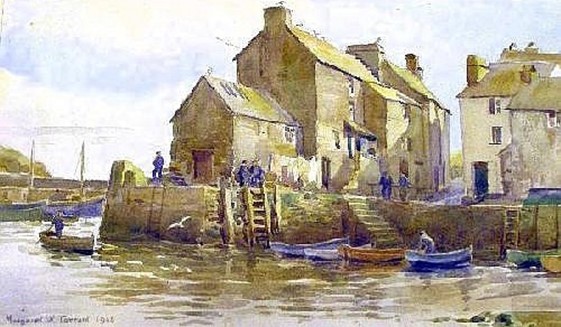 The art colonies of Newlyn, Lamorna and St Ives are well-known but somehow that of Polperro has failed to attract the same degree of attention despite the fact that the village has drawn numerous artists over the years. Furthermore, unlike most other Cornish art centres, Polperro has largely retained its attractive features and had not been unduly spoilt by modern development. Margaret Tarrent - The Inner Quay, Polperro (1946)
Now, at last, an impressive two-volume work has been published that should change all that. Art historian David Tovey, whose great-grandfather William Titcomb was among the many artists to have visited Polperro in the 20th century, has produced a handsomely illustrated publication, Polperro: Cornwall's Forgotten Art Centre, encompassing work by artists spanning two centuries.
Not only are both volumes fully illustrated with colour plates throughout, but the author weaves an enormous amount of well-researched social history in with an account of the artists' work featured.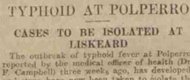 Typhoid fever in Polperro
Posted on October 11, 2020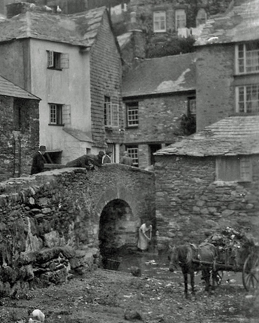 An outbreak of typhoid fever in Polperro at the beginning of September 1929 caused considerable alarm among residents and the local authority at the time. The Western Morning News reported that the Ministry of Health had issued instructions for an isolation hospital attached to the Liskeard Workhouse to be used to accommodate 15 infected patients from Polperro, many of whom had been very reluctant to leave their homes, some only agreeing to be taken there after being threatened with a magistrate's warrant. One young mother suffering from typhoid was reported to have fled to an unknown address with her baby of 20 months.
Such was the fear of infection that the authorities faced further difficulty when the fact that the Liskeard ambulance refused to transport any of the typhoid sufferers. After considerable delay, an ambulance was obtained from Plymouth, making three journeys on two successive days until the Medical Officer of Plymouth intervened and refused to allow it to be used. As there was then no ambulance in the whole of Cornwall available for infectious diseases, a further case of typhoid in Polperro had to be taken to Liskeard in a private car which was subsequently disinfected.
The local Medical Officer of Health said it was the first outbreak of typhoid in Polperro for over 40 years, in spite of the fact that the river running through the village was used an open sewer. Careful investigations had revealed that the likely cause was the milk supply from a dairy which drew water for washing utensils from a well located within 80 feet of the river. An official report following an inspection by medical officers in Polperro concluded that the pollution of the river 'renders the water from the stream totally unfit for domestic circumstances or any other purposes, however remotely connected with the preparation of food and drink for human consumption'. The future disinfection of the river at Polperro with chloride of lime was left to the medical officer's discretion.
A previous outbreak of typhoid fever in Polperro had occurred in 1891 when the then Medical Officer of Health, Dr William Nettle, reported to the Liskeard Rural Sanitary Authority: 'No hospital being at hand to isolate the case, the patient was kept at home and went through all the stages of the fever in the living-room of the house and infected another member of the family'.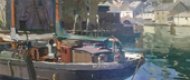 Mary Barrow schooner Polperro
Posted on May 13, 2020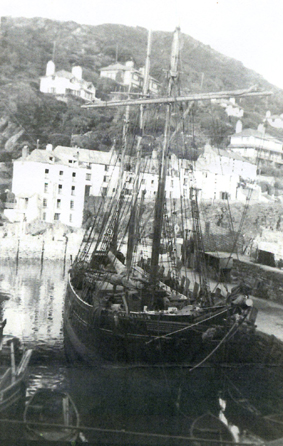 The Mary Barrow was one of the biggest vessels to visit Polperro harbour before the Second World War.
Built by W. K. Lean at Falmouth in October 1891 for South American hide trade, she was a beautiful three-masted topgallant schooner, was 103' long, 24' wide and 11' high. In 1894 two of her crew died of yellow fever. For many years she plied the Newfoundland fish trade and nearly came to grief during the January storms of 1908 when she was stranded on Porthminster beach, St. Ives (alongside another schooner, the Lizzie R. Wilce). Both ships were carrying coal from Swansea when they encountered heavy seas and a strong north-west gale while trying to enter St Ives harbour. She was refloated a week later under a reduced rig and continued to sail on the British coastal trade.
In 1926 she was fitted with an engine and managed by Couch of Fowey. In 1928 she was owned in Newquay but around 1932 she was sold to Captain Peter Mortensen of Truro and converted to auxiliary schooner, finding steady employment in the china clay industry to Scotland.
In September 1938 she was lost in fog off the Isle of Man and came too close inshore and was stranded on the Calf of Man while bound with coal from Truro to Ayr. The crew were saved but the sturdy old schooner was doomed. She was pounded by the storm during the night and when dawn broke she had been reduced to a pile of broken matchwood.