Posted on October 15, 2018
Polperro once relied upon the sea for nearly everything: food, transport, trade, defence and contact with the outside world. Fishing was always a vital part of the Cornish way of life and in the 18th and 19th centuries and pilchard fishing was a major industry in Polperro. Throughout the summer months huge shoals of pilchards were caught off the south Cornish coast and then taken to pilchard cellars, called pallaces, for processing.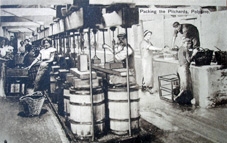 Pallace Court, above the Museum in the Warren, was once such a building. In 1800, Reginald Barrett leased a pallace on the Outer Quay. Another pallace stood at Kit Hill on Talland Hill, leased to James Pearce (1753-1815) and his wife Ann (neé Peake) but by 1813 this had been converted into an inn with a brewhouse attached.
In these buildings, women salted and packed the pilchards up against the walls until a solid bulk three feet deep and six feet high was raised. After a month had elapsed, the fish were packed into hogsheads (straight-sided barrels that held 3,000 fish and designed to leak) and the contents pressed by heavy weights so that the oil and salt seeped out into specially made drains, producing up to 45 litres from each barrel. This 'train oil' was collected for use in lamps or sold for use in the tanning industry.
Even before 1800, Polperro pilchards were sold far and wide, including Italian ports such as Livorno. The fish was purchased almost exclusively by Italian Catholics for religious fasting. Hence the traditional toast of Cornish fishermen:
Here's a health to the Pope; may he never know sorrow,
With pilchards today and pilchards tomorrow.
Good luck to his Holiness; may he repent,
And add just six months to the length of his Lent;
And tell all his vassals from Rome to the poles,
There's nothing like pilchards for saving their souls.
Later, in the 20th century, two Italians – the Teglio bothers – settled in Polperro and leased the fish store below Pallace Court (now the Polperro Museum) from where they exported pilchards to their home country.
Pilchard fishing declined from the mid-20th century, although small quantities of pilchards are still caught in Cornish waters today.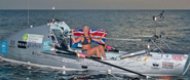 How to beat the Atlantic rowing records after brain surgery
Posted on July 16, 2018
When I wrote the last blog entry in February, our latest author, Kiko Matthews, was somewhere in the middle of the Atlantic ocean attempting to become the fastest woman to complete the crossing solo and unaccompanied.
At the time, neither she nor I knew if she would even manage to complete the crossing let alone break the world record for doing so, given that she was still recovering from recent brain surgery to remove a tumour from her pituitary gland.
Four weeks later, Kiko rowed into Port St Charles, Barbados, exactly 49 days, seven hours and 13 minutes after setting out from Grand Canaria, beating the previous record set by a French woman 15 years earlier by six days. It was a remarkable achievement by any measure, all the more so because she was on medication as she rowed, battling wind, waves and fatigue all the way.
Every day she would send a brief blog of her progress via satellite phone.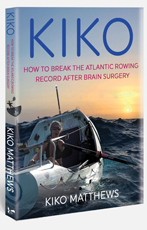 It is this, plus the story of her life leading up to the crossing itself, that has formed the basis of the book that she has written. Kiko: How to beat the Atlantic rowing record after brain surgery will be published in September. Not surprisingly, perhaps, it has taken her rather longer to write than it did to row across the Atlantic, but the account of her epic solo voyage, accompanied by dozens of amazing colour photographs taken on her phone along the way, make a very special publication.
As she says in the Introduction: 'It's an honest account of me, Kiko, and my solo row across the Atlantic. What got me there, my background, my thoughts on those who have helped me and some of the theories behind my mental strength. I really hope you can take something away from it. I want it to make you laugh, to think and inspire you to challenge yourself. If you cry, that wasn't the intention, but you never know! I want it to make you realise you can do anything. After all, I went to quite a lot of effort to prove to you that anything is possible if you want it enough'.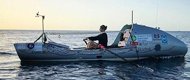 Kiko Matthews Atlantic challenge rowing record
Posted on February 21, 2018
I came across a remarkable story last year.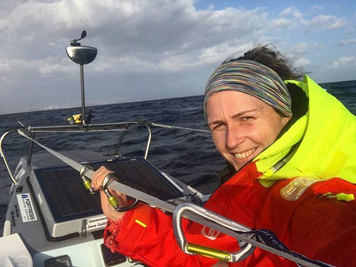 A young woman, Kiko Matthews, was preparing to row across the Atlantic on her own in an attempt to beat the record for the fastest woman ever to do so unsupported.
What was all the more remarkable however was that Kiko had undergone two major operations to remove a tumour on her pituitary gland at the base of her brain, a life-threatening condition known as Cushing's disease. She had never rowed before announcing her challenge and planned to raise £100,000 for King's College Hospital in London where she had been treated.
On 1st February this year, she set off alone from Gran Canaria in her boat to row 3,000 miles to Barbados. The current record for the fastest woman to do so was set in 2003 when Frenchwoman Anne Quéméré completed the crossing in 56 days. Kiko (right) plans to complete the crossing in only 45 days.
The book of her extraordinary feat is being written as she rows, day by day, page b y page… though we cannot yet be sure how it will end. As she herself says, "I have found the experiences that come with tackling the unknown and the potential for achievement far outweigh the possibility of failure. With a belief that the outcome is irrelevant, I see challenge as an opportunity to develop skills and knowledge as well as resilience, confidence and relationships."
Kiko's fund-raising has been supported largely by women through her 100togetHER campaign, set up to involve one hundred (or more) women in her record attempt and to show that any challenge can be overcome or achieved by women working together and supporting one another. Each 'woman' (a group, business or individual) was asked to donate £1k.
"The campaign itself started as a personal challenge," says Kiko. "Something to keep me out of mischief but also, having been at a point so close to death, I wanted to show people how life can change and what can be achieved with the right attitude and support. It was also a great opportunity to say thank you to King's College Hospital by raising funds for their new critical care unit to thank them for saving my life."
The story of Kiko's epic voyage, when it is eventually published later this year, should certainly inspire many other women to take on a similarly impossible challenge.