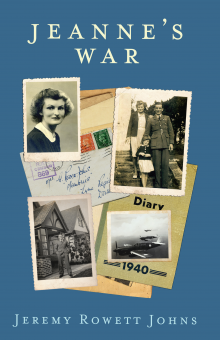 JEANNE'S WAR
by Jeremy Rowett Johns
As Britain declares war with Germany in September 1939, an unhappily married young woman in her twenties finds herself inextricably caught up in an emotional love tangle involving two RAF pilots.
Jeanne's War is a first hand account of the events that unfolded, based on entries recorded in graphic detail in the intensely private notebooks and 1940 diary of Jeanne Dayus who took in the two RAF pilots as lodgers while her husband was away. One of them became a decorated Spitfire pilot during the Battle of Britain; the other suffered life-threatening injuries in an aircraft crash but survived to eventually marry his darling Jeanne.
Jeanne's diary not only charts the progress of the war through 1940 as Britain stood poised for an invasion by German assault troops, but graphically describes life during the aerial dog-fights that took place over the south coast and later in London during the blitz.
Hardback 182 pages Illustrated
ISBN 97809957368-4-9