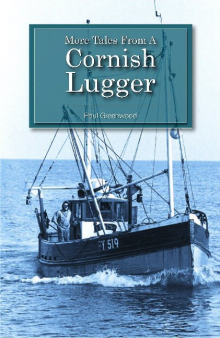 Also available as an ebook in Kindle and ePub formats.
MORE TALES FROM A CORNISH LUGGER
by Paul Greenwood
In this sequel to his much-acclaimed first book, Once Aboard A Cornish Lugger,Paul Greenwood draws on his own experiences in the 1970s and 1980s to graphically bring to life the hardships and dangers faced by Cornish fishermen. More Tales From A Cornish Lugger tells of gales, whales, wrecks and rigours of life aboard the fishing luggers that worked off the south coast of Cornwall.
Paperback 144 pages, illustared
ISBN 978-0955954191
Reviews of ONCE ABOARD A CORNISH LUGGER
"Genuine accounts of the working lives of fishermen are rare indeed, but this is just such a book ... I heartily recommend it to you all." South West Soundings