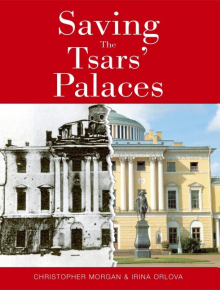 Also available as an ebook in
Kindle
and ePub formats.
SAVING THE TSARS' PALACES
by Christopher Morgan & Irina Orlova
Millions of people annually visit the great country palaces built by the tsars in a circle round St. Petersburg. Created by artists from all over Europe, with untold serf labour at their disposal, the palaces were intended to impress and they do. Today, in the corner of most rooms, a single black and white photograph shows the same room in 1944, amid the smouldering wreckage found by Russian soldiers returning after the three-year siege of Leningrad. Forced to abandon the palaces, the Nazis vented their anger on the treasures they occupied.

The story behind these photographs is in many ways more impressive even than the rooms themselves. It is the story of a relatively small band of talented Russians who were determined not to allow their country's heritage to be swept away by all the horrors of the twentieth century. The palaces today are truly the work of Russians but restorers have to be self-effacing. There have been books about what they did but not about them. In Saving The Tsars' Palaces, Christopher Morgan and Irina Orlova vividly recount the remarkable story of those who battled to save the palaces, not just during and after the war, but during the Revolution and the harsh times that followed.
Paperback 196 pages Illustrated
ISBN 095491371X
Reviews of SAVING THE TSARS' PALACES
"The book can certainly be of interest to first-time travellers to St. Petersburg" East-West Review