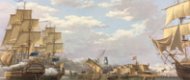 The Battle of Santa Cruz in 1797 when Nelson lost his right arm
Posted on March 8, 2017
Enjoying a few days away from the British winter weather last month in Tenerife I was surprised to come across the full story of Admiral Horatio Nelson's only major defeat in battle which resulted in the loss of his right arm.
The Battle of Santa Cruz in July 1797 was initiated by news that two valuable Spanish treasure ships had taken refuge in the harbour there in the north of Tenerife, aware that the British fleet was blockading Cadiz following Nelson's victory a few months earlier off Cape St Vincent. One them, the Principe Fernando, was seized by the British along with her cargo worth £30,000. But the other more valuable prize escaped capture, prompting Nelson to mount a seaborne assault on the heavily defended port of Santa Cruz.
His squadron of three 74-gun ships, three frigates, the cutter Fox and a mortar boat recently taken from the Spaniards, arrived off Tenerife on 21st July. The Spanish defenders were alerted to the possibility of an invasion however. An attempt to land a raiding party and gain a position above the town was repelled so, on the evening of the 24th Nelson decided to attack directly from the sea. The battle plan called for a combination of naval bombardments and an amphibious landing.
Several of the boats failed to land at the correct positions in the confusion, while those that did were swept by gunfire and grapeshot. Nelson's boat reached its intended landing point but as he stepped ashore he was hit in the right arm by a musketball, which fractured his upper arm in several places. He was rowed back to his flagship, Theseus to be attended to by the surgeon. Most of the right arm was amputated and within half an hour Nelson had returned to issuing orders to his captains.
A force of almost 1,000 men made up the assault force, but many were lost in the attempt. The cutter Fox was also sunk by a lucky shot from a 24-pounder and as the battle ashore continued through the night, it soon became clear that the beleaguered invaders had no option other than to surrender.
The Spanish commander in Santa Cruz, General Antonio Gutierrez, allowed the British to leave with their weapons. This led to a courteous exchange of letters between Nelson and Gutiérrez. A copy of Nelson's letter (right) offering a cheese as a token of his gratitude is actually on display at the Military Museum in Santa Cruz. It must have been one of the first occasions he was obliged to write with his left hand.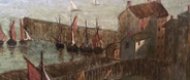 Posted on December 18, 2016
Seven years ago, in 2009, I was contacted by an amateur antique dealer in Minneapolis who said she had just bought an oil painting of Polperro dated c1820 in a sale there. She was initially attracted to it because of its large gilt frame, but on closer inspection, she noticed part of an old label on the back on which it was just possible to make out the following words, written in ink: 'English Channel… purchased from the artist for 36 guineas Mar 09, 1800 [?] … Polperro Bay'. The painting was signed 'W. Linton'.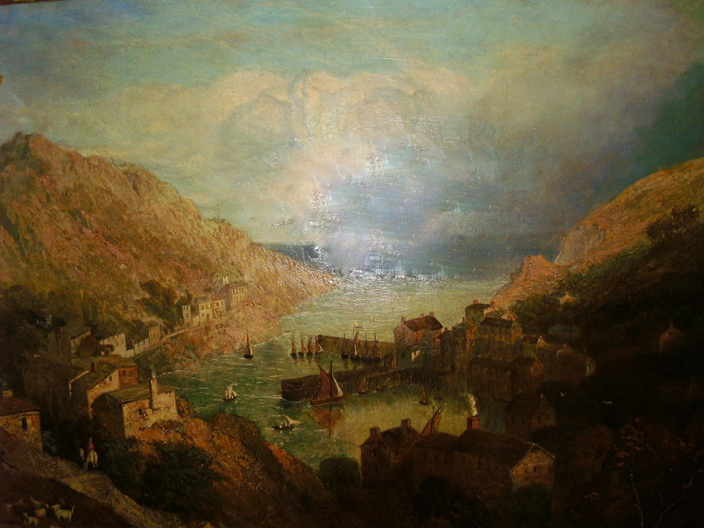 The photograph of the painting she sent me suggested it was a very early view of Polperro. There was indeed an English landscape artist named William Linton, born in 1791 whose style was very similar to the Polperro painting, though it must have obviously been done later than the 1800 date on the label suggests. Linton (1791-1876) was a Liverpool born landscape artist who moved to London where he exhibited between 1817 and 1871. He was one of the founders of the Society of British Artists founded 1824.
My US correspondent, Ann Pierzina-Killian, told me that the person who sold it to her has said it came from a Victorian house in Minneapolis that had been a funeral parlour and where it had hung for many years.
What struck me, when I saw the photo of the painting, was how remarkably accurate many of the features were, given what we know of Polperro in the early part of the 19th century. Unlike the exaggerated views drawn by Joseph Farington after his visit there in 1810, it is possible to make out the Warren, both piers in the harbour and even what looks like St. Peter's chapel on the Lansallos side in Linton's work.
How it ended up in a funeral parlour in Minneapolis is anyone's guess. It may, of course, have been taken to the USA with one of the Polperro families who emigrated there in the 19th century. But the current owner of the painting is now offering it for sale with a price tag of $5,000.
That seems a lot for a painting that appears to have no particular artistic merit, but it is clearly something that ought to be brought back to Polperro if at all possible, perhaps by some form of public subscription or local appeal.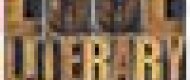 Looe Literary Festival
Posted on November 14, 2016
As one of the speakers at the Looe Literary Festival this year,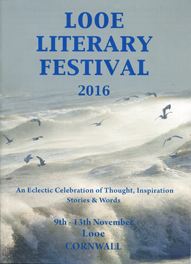 I was struck by the delightful pleasure that Cornish folk derive from stories about their past. Author Paul Greenwood opened this year's festival with a spell-binding talk about ghosts in the Jolly Sailor Inn, and I followed the next day with the story of Zephaniah Job, the smugglers' banker of Polperro. There was scarcely room to move in the crowded bar of the Jolly Sailor, reputed to be one of the oldest pubs in Britain, a sure sign that Cornish men and women enjoy a good yarn.
The Looe Literary Festival is now in its third year and despite attracting big names (former Home Secretary Alan Johnson and Ann Widdecombe were among this year's speakers) it still struggles to avoid making a loss. Even the local town council withdrew funding this year but the indomitable spirit of organisers Amelia Pruen and June Slee has kept it going despite setbacks and difficulties.
There was something for every taste and age among this year's highlights: Hogwarts recreated in the Guildhall, a talk on self-published fiction, 'horrible sciences' for children, a comic poet, a workshop for young writers, a Booker Prize Long List novelist, 'moon gardening' (whatever that is), Cornish miners in World War I as well as the two famous politicians - one Labour, one Tory - discussing their memoirs!