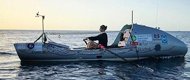 Kiko Matthews Atlantic challenge rowing record
Posted on February 21, 2018
I came across a remarkable story last year.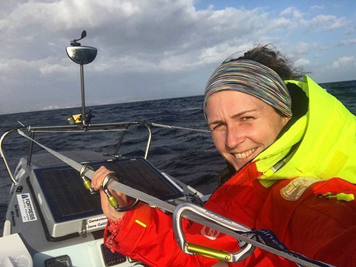 A young woman, Kiko Matthews, was preparing to row across the Atlantic on her own in an attempt to beat the record for the fastest woman ever to do so unsupported.
What was all the more remarkable however was that Kiko had undergone two major operations to remove a tumour on her pituitary gland at the base of her brain, a life-threatening condition known as Cushing's disease. She had never rowed before announcing her challenge and planned to raise £100,000 for King's College Hospital in London where she had been treated.
On 1st February this year, she set off alone from Gran Canaria in her boat to row 3,000 miles to Barbados. The current record for the fastest woman to do so was set in 2003 when Frenchwoman Anne Quéméré completed the crossing in 56 days. Kiko (right) plans to complete the crossing in only 45 days.
The book of her extraordinary feat is being written as she rows, day by day, page b y page… though we cannot yet be sure how it will end. As she herself says, "I have found the experiences that come with tackling the unknown and the potential for achievement far outweigh the possibility of failure. With a belief that the outcome is irrelevant, I see challenge as an opportunity to develop skills and knowledge as well as resilience, confidence and relationships."
Kiko's fund-raising has been supported largely by women through her 100togetHER campaign, set up to involve one hundred (or more) women in her record attempt and to show that any challenge can be overcome or achieved by women working together and supporting one another. Each 'woman' (a group, business or individual) was asked to donate £1k.
"The campaign itself started as a personal challenge," says Kiko. "Something to keep me out of mischief but also, having been at a point so close to death, I wanted to show people how life can change and what can be achieved with the right attitude and support. It was also a great opportunity to say thank you to King's College Hospital by raising funds for their new critical care unit to thank them for saving my life."
The story of Kiko's epic voyage, when it is eventually published later this year, should certainly inspire many other women to take on a similarly impossible challenge.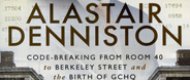 Posted on October 20, 2017
Ten years ago I published Robin Denniston's tribute to his father, Thirty Secret Years: A. G. Denniston's work in signals intelligence 1914-1944. His father Alastair had headed the Government Code and Cypher School (GC&CS) before the Second World War and was responsible for setting up the code-breaking operation at Bletchley Park. In due course he was moved to a similar operation in London but when he retired at the end of the war, the highly secret nature of his work meant that he received little recognition for his distinguished career. Indeed, he is almost the only head of what is now GCHQ to have not received a knighthood for his service.
Robin had originally approached me while I had been in discussion with one of his daughters, Susanna Everitt, about a possible book about her great-grandfather James Denniston. In the event, I went ahead with Robin's monograph about his father's work. Robin himself had had a distinguished career in publishing and was keen to see his father's role acknowledged once he had been given the go-ahead by GCHQ.
In due course, I returned to the story of James Denniston, a Glaswegian doctor who had volunteered to work in a field hospital in Erzurum in Turkey during the 1870s when Turkey was at war with Russia. His letters to a young woman he had left behind vividly descri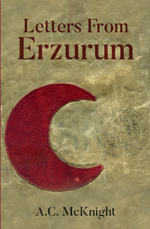 bed the appalling conditions he encountered; they also charted the growing intimacy of the relationship that developed between them.
A young member of the extended Denniston family, James McKnight, undertook the task of turning the epistolary romance into a novel, published this month as Letters From Erzurum.
Meanwhile, a few weeks earlier, a biography of Alastair Denniston by the Bletchley Park historian Dr Joel Greenberg was at last published. Alastair Denniston: Code-Breaking from Room 40 to Berkeley Street and the Birth of GCHQ was duly launched at GCHQ in the presence of the Denniston family.
The hitherto unacknowledged role of the man who headed one of Britain's most secret wartime operations has now been told, along with that of his father, the young Glaswegian doctor who served in an altogether different theatre of war.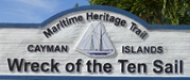 Posted on September 13, 2017
The story of the 'Wreck of the Ten Sail', when ten ships from a convoy came to grief on a reef off Grand Cayman in 1794, is a familiar one to the inhabitants of this idyllic haven in the Caribbean. But the legend that has become attached to the incident, that the reason the Cayman islands enjoy tax free status today is because a royal prince aboard one of the ships was saved by the islanders and a grateful King George III granted the Islands the status they enjoy today, has long been dismissed by modern historians.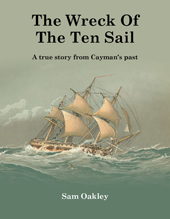 However, as author Sam Oakley reveals in her new book The Wreck Of The Ten Sail – a true story from Cayman's past there was indeed a link with the British monarch. One of the passengers aboard HMS Convert, the frigate escort also wrecked along with nine merchant vessels, was Lady Amelia Cooke, daughter of the Duke of Atholl whose aristocratic Murray family ruled the Isle of Man in the 18th century. Thirty years old at the time, she was returning to England from Jamaica following the death of her husband there. Her cousin, Lady August a Murray, had secretly married Prince Augustus Frederick, the sixth son of George III, in Italy the previous year.
Lady Amelia was among several hundred survivors of the maritime disaster, attributed to a navigational error, who found themselves stranded on Grand Cayman at a time when the inhabitants were still coping with the aftermath of a ferocious hurricane that had virtually devastated the island. So dire was their plight that a group of prominent residents wrote a letter to Captain John Lawford, commander of the Convert, pleading with him to evacuate the survivors as quickly as possible.
Today, a monument stands on a lonely outcrop of the shore overlooking the reef where the ten vessels were wrecked. It was commemorated on the 200th anniversary of the event in 1995 when Queen Elizabeth II paid a visit to the spot, though it is not known whether she was aware at the time of the royal connection unearthed by our author.