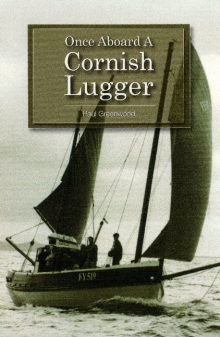 Also available as an ebook in Kindle and ePub formats.
ONCE ABOARD A CORNISH LUGGER
by Paul Greenwood
Former Cornish fisherman Paul Greenwood vividly describes life as a young crewman aboard the Looe lugger Iris in the 1960s. His frank account of the hardships he encountered at sea in Once Aboard a Cornish Lugger, overcoming sea-sickness, fatigue, cold and wet while working by day and night hauling nets and lines is a brilliant evocation of a bygone age that contrasts with modern conditions in the fishing industry. This illustrated account pays tribute to the crewmen he left behind.
Paperback 144 pages, illustrated
ISBN 978-09553648-1-5
Reviews of ONCE ABOARD A CORNISH LUGGER
"Captures the dying days of working fishing luggers in Cornwall" Cornish Guardian

"A fascinating evocation of the characters, boats and traditions which made up the working life of the Looe luggers." Liskeard & Looe Gazette

"A marvellous and poignant book... oral history at its best" South West Soundings

"A lively and compelling story" Cornish World

"A wonderful read" Fishing News