Posted on June 13, 2012
Picnic Crumbs
What better place to celebrate the publication of a new book about picnics than Glyndebourne, venue of the glorious annual Festival Opera.
In her Picnic Crumbs: A Gathering of Picnics, Packed Lunches and Provisions at Home and Abroad, Anabel Loyd recalls how picnics there have always been variable feasts 'although champagne has a regular role' and quotes Arabella Boxer on the subject of what is expected of a Glyndebourne picnic: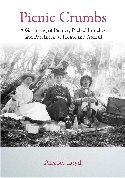 'A totally different sort of picnic that occurs, though less frequently, in my life is the evening picnic. An expedition to Glyndebourne is a good example of this sort of occasion, and here it seems worthwhile to be more extravagant. I like to construct this sort of picnic as if it were a formal meal, served on china plates with proper silver and glass, taking a pretty tablecloth to spread on the grass. Several bottles of chilled white wine, or even better, still champagne, are almost obligatory. To start, perhaps home-made potted shrimps with small sandwiches of brown bread and butter, or giant prawns or crayfish, served with mayonnaise. Then possibly some small chicken pies, served warm; or a roll of flaky pastry enclosing a large spicy sausage served with a mustard sauce; or an enclosed quiche, like a shallow pie, filled with spinach and tomatoes, or mushrooms, fish and rice. An alternative menu might consist of a hot consommé madrilène or a bortsch served in small cups and followed by a cold main dish such as smoked chicken or turkey, cold duck, or a duck pâté with crusty French bread and a green salad. Slices of cold roast sirloin can be rolled round small heaps of freshly grated horseradish, or thick slices of rare fillet of beef can be served with a rich and creamy horseradish sauce.'
As Anabel Loyd says, it sounds delicious, especially if the rain stays away next month when she will be signing copies of her new book in the Glyndebourne shop on Thursday, 26th July, before the performance of Le Nozze di Figaro. She adds a cautionary note though: 'Dozing off after a good dinner and several bottles of white wine, not to mention pre-performance Pimms, is another hazard although the latest, air-conditioned theatre at Glyndebourne has reduced the problem. In the old, cramped and close space, programmes swished constantly in a vain effort to stir the air. One man had a heart attack in the front row and was quietly removed as the music played on and a woman in a daffodil yellow dress crumpled to the floor during the interval'.
Visitors to Glyndebourne are advised to bring their own picnic blanket or table and chairs and 'plastic sheeting to cover your picnic in the event of rain'. Let's hope the latter will not be required for Anabel's book signing next month. Award-winning artist Peter Haslam Fox, whose illustrations add the best seasoning to her appetising text, will also be there to capture the atmosphere.