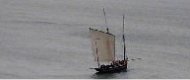 The Looe Lugger Regatta returns for the 13th time despite gale force winds in the Channel.
Posted on June 20, 2013
The Looe Lugger Regatta is one of those great but little publicised spectacles that can be witnessed every two years off the south coast of Cornwall when, weather permitting, a fleet of wooden hulled luggers can be seen under full sail in Looe Bay.
That should have been the sight last weekend when the 13th biennial Looe Lugger Regatta took place, but gale force winds in the Channel meant the sailing events had to be cancelled. Indeed, many of the vessels that had been expected to arrive in Looe were unable to get there in time, though several magnificent French boats did make it, having set out earlier.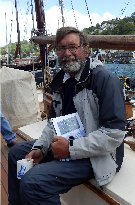 The event is organised by Paul Greenwood, whose two books Once Aboard A Cornish Lugger and More Tales From A Cornish Lugger have proved so popular with lugger folk and others with an interest in historic wooden boats. Paul's boat, the Erin, a 38 foot former pilchard driver built in 1904, was among the thirty or so moored up in Looe harbour for the weekend and while he, like the other skippers and crew, fretted about the weather, spectators were at least afforded a closer view of the luggers than would have been the case had they been able to set sail.
Paul's first book, Once Aboard A Cornish Lugger, is a frank and salty account of his time as a young crewman aboard the Iris when she was a working boat out of Looe in the 1960s. Encouraged by the success of that book (it was awarded a Commendation by the Holyer an Gof Publishers' Awards in 2008), he went on to write the sequel volume in which he describes graphically what it was like to work as a Cornish fisherman in the 1970s and 1980s. One of the boats he owned and worked then was the Ibis.