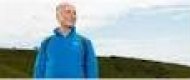 Tony Robinson in Polperro
Posted on October 4, 2013
A recent visit to Polperro this month involved meeting with actor and broadcaster Tony Robinson who was walking along the south Cornwall coast path filming an episode of his Walking Through History series for Channel 4 Television.
Torrential rain prevented us strolling around the harbour; instead, we sought shelter in the bar of the Crumplehorn Inn where we talked about Zephaniah Job, the 'Smugglers' Banker' who masterminded the thriving smuggling trade through Polperro in the latter half of the 18th century.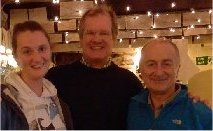 Tony was particularly interested in the way groups of local fishermen and others formed syndicates and owned shares in the boats that were used to bring the contraband across from Guernsey. And when the war with France in the 1890s provided an opportunity for privateering, even bigger boats were built, armed and fitted out for the purpose.
This led us on to talk about the national lottery introduced at the time to help fund the cost of the war effort. Tickets cost 16 guineas each, so syndicates formed to buy a single lottery ticket, though the prize money was correspondingly high. Inevitably, we got around to talking about the Lottery, the Polperro smuggling lugger that was involved in the murder of a customs officer in 1798. When the crew was eventually caught, one of them turned King's evidence and named a fellow crewman, Tom Potter, as the man of fired the fatal shot. Despite several attempts by Zephaniah Job and others to prevent justice taking its course, Potter was eventually tried and convicted of the murder and executed.
Tony's route took him on to Fowey, Mevagissey and eventually to west Cornwall, stopping along the way to discover more about the 'trade' that Cornish men and women carried on for centuries. Despite being knighted for public and political service earlier this year, 'Sir Anthony' seemed remarkably unfazed by his title... a consummate professional who proved very popular with the hard-working TV crew who were following him on his travels.