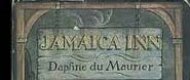 Posted on May 1, 2014
Daphne du Maurier's literary legacy is an enduring one, as the recent BBC television dramatisation of Jamaica Inn demonstrated, despite some criticism of the audibility of the dialogue.
As Cornish author Michael Williams says in his book The Three du Maurier Sisters, 'Daphne may not have been Cornish but she was one of the greatest writers to have come out of Cornwall: that rare character, a bestseller who defies classification'.

Jamaica Inn was certainly a huge success when it was first published in 1936 and its evocative description of Bodmin Moor and dark gothic story is reminiscent of earlier classics such as Jane Eyre and Wuthering Heights. Jamaica Inn today bears little resemblance to the setting for Daphne du Maurier's story, but does have a smuggling museum to remind visitors of the trade that certainly flourished in Cornwall in times past.
Michael Williams' book about Daphne and her two sisters, Angela and Jeanne recalls the lives of all three gifted siblings, though Daphne's success rather eclipsed the artistic talent and achievements of the other two.