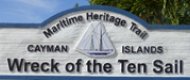 The wreck of the Ten Sail on Grand Cayman in 1794
Posted on July 19, 2016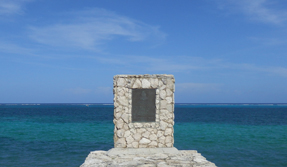 On a recent visit to the Cayman Islands I came across the story of the Wreck of the Ten Sail, when ten ships were wrecked on a reef off Grand Cayman in 1794. They were part of a convoy of merchant ships escorted by a British frigate, HMS Convert, that had set out from Jamaica for Britain and a navigational error by the Convert led it and nine of the merchant vessels on to the island.
A legend attached to the incident claims that a royal prince aboard one of the ships was saved by the islanders and as a result, King George III granted the Cayman Islands the tax free status they enjoy today.
Whatever the truth of that legend, the story of the Wreck of the Ten Sail is remarkable enough as it is. Author Samantha Oakley, who lives on Grand Cayman with her husband Nick, is currently researching the events leading up to and following the disaster which claimed the lives of several people on board the stricken ships.
A monument commemorating the event was erected in 1994 overlooking Gun Bay to mark the visit there by the Queen on the 200th anniversary.