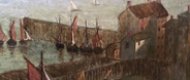 Posted on December 18, 2016
Seven years ago, in 2009, I was contacted by an amateur antique dealer in Minneapolis who said she had just bought an oil painting of Polperro dated c1820 in a sale there. She was initially attracted to it because of its large gilt frame, but on closer inspection, she noticed part of an old label on the back on which it was just possible to make out the following words, written in ink: 'English Channel… purchased from the artist for 36 guineas Mar 09, 1800 [?] … Polperro Bay'. The painting was signed 'W. Linton'.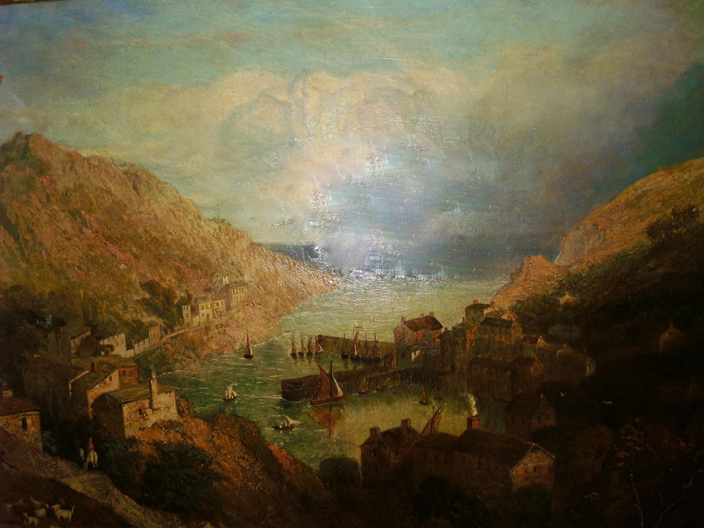 The photograph of the painting she sent me suggested it was a very early view of Polperro. There was indeed an English landscape artist named William Linton, born in 1791 whose style was very similar to the Polperro painting, though it must have obviously been done later than the 1800 date on the label suggests. Linton (1791-1876) was a Liverpool born landscape artist who moved to London where he exhibited between 1817 and 1871. He was one of the founders of the Society of British Artists founded 1824.
My US correspondent, Ann Pierzina-Killian, told me that the person who sold it to her has said it came from a Victorian house in Minneapolis that had been a funeral parlour and where it had hung for many years.
What struck me, when I saw the photo of the painting, was how remarkably accurate many of the features were, given what we know of Polperro in the early part of the 19th century. Unlike the exaggerated views drawn by Joseph Farington after his visit there in 1810, it is possible to make out the Warren, both piers in the harbour and even what looks like St. Peter's chapel on the Lansallos side in Linton's work.
How it ended up in a funeral parlour in Minneapolis is anyone's guess. It may, of course, have been taken to the USA with one of the Polperro families who emigrated there in the 19th century. But the current owner of the painting is now offering it for sale with a price tag of $5,000.
That seems a lot for a painting that appears to have no particular artistic merit, but it is clearly something that ought to be brought back to Polperro if at all possible, perhaps by some form of public subscription or local appeal.