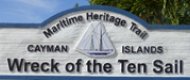 Posted on September 13, 2017
The story of the 'Wreck of the Ten Sail', when ten ships from a convoy came to grief on a reef off Grand Cayman in 1794, is a familiar one to the inhabitants of this idyllic haven in the Caribbean. But the legend that has become attached to the incident, that the reason the Cayman islands enjoy tax free status today is because a royal prince aboard one of the ships was saved by the islanders and a grateful King George III granted the Islands the status they enjoy today, has long been dismissed by modern historians.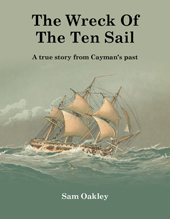 However, as author Sam Oakley reveals in her new book The Wreck Of The Ten Sail – a true story from Cayman's past there was indeed a link with the British monarch. One of the passengers aboard HMS Convert, the frigate escort also wrecked along with nine merchant vessels, was Lady Amelia Cooke, daughter of the Duke of Atholl whose aristocratic Murray family ruled the Isle of Man in the 18th century. Thirty years old at the time, she was returning to England from Jamaica following the death of her husband there. Her cousin, Lady August a Murray, had secretly married Prince Augustus Frederick, the sixth son of George III, in Italy the previous year.
Lady Amelia was among several hundred survivors of the maritime disaster, attributed to a navigational error, who found themselves stranded on Grand Cayman at a time when the inhabitants were still coping with the aftermath of a ferocious hurricane that had virtually devastated the island. So dire was their plight that a group of prominent residents wrote a letter to Captain John Lawford, commander of the Convert, pleading with him to evacuate the survivors as quickly as possible.
Today, a monument stands on a lonely outcrop of the shore overlooking the reef where the ten vessels were wrecked. It was commemorated on the 200th anniversary of the event in 1995 when Queen Elizabeth II paid a visit to the spot, though it is not known whether she was aware at the time of the royal connection unearthed by our author.