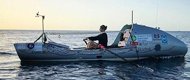 Kiko Matthews Atlantic challenge rowing record
Posted on February 21, 2018
I came across a remarkable story last year.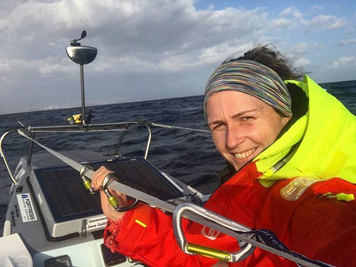 A young woman, Kiko Matthews, was preparing to row across the Atlantic on her own in an attempt to beat the record for the fastest woman ever to do so unsupported.
What was all the more remarkable however was that Kiko had undergone two major operations to remove a tumour on her pituitary gland at the base of her brain, a life-threatening condition known as Cushing's disease. She had never rowed before announcing her challenge and planned to raise £100,000 for King's College Hospital in London where she had been treated.
On 1st February this year, she set off alone from Gran Canaria in her boat to row 3,000 miles to Barbados. The current record for the fastest woman to do so was set in 2003 when Frenchwoman Anne Quéméré completed the crossing in 56 days. Kiko (right) plans to complete the crossing in only 45 days.
The book of her extraordinary feat is being written as she rows, day by day, page b y page… though we cannot yet be sure how it will end. As she herself says, "I have found the experiences that come with tackling the unknown and the potential for achievement far outweigh the possibility of failure. With a belief that the outcome is irrelevant, I see challenge as an opportunity to develop skills and knowledge as well as resilience, confidence and relationships."
Kiko's fund-raising has been supported largely by women through her 100togetHER campaign, set up to involve one hundred (or more) women in her record attempt and to show that any challenge can be overcome or achieved by women working together and supporting one another. Each 'woman' (a group, business or individual) was asked to donate £1k.
"The campaign itself started as a personal challenge," says Kiko. "Something to keep me out of mischief but also, having been at a point so close to death, I wanted to show people how life can change and what can be achieved with the right attitude and support. It was also a great opportunity to say thank you to King's College Hospital by raising funds for their new critical care unit to thank them for saving my life."
The story of Kiko's epic voyage, when it is eventually published later this year, should certainly inspire many other women to take on a similarly impossible challenge.