Posted on October 15, 2018
Polperro once relied upon the sea for nearly everything: food, transport, trade, defence and contact with the outside world. Fishing was always a vital part of the Cornish way of life and in the 18th and 19th centuries and pilchard fishing was a major industry in Polperro. Throughout the summer months huge shoals of pilchards were caught off the south Cornish coast and then taken to pilchard cellars, called pallaces, for processing.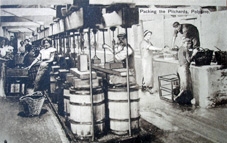 Pallace Court, above the Museum in the Warren, was once such a building. In 1800, Reginald Barrett leased a pallace on the Outer Quay. Another pallace stood at Kit Hill on Talland Hill, leased to James Pearce (1753-1815) and his wife Ann (neé Peake) but by 1813 this had been converted into an inn with a brewhouse attached.
In these buildings, women salted and packed the pilchards up against the walls until a solid bulk three feet deep and six feet high was raised. After a month had elapsed, the fish were packed into hogsheads (straight-sided barrels that held 3,000 fish and designed to leak) and the contents pressed by heavy weights so that the oil and salt seeped out into specially made drains, producing up to 45 litres from each barrel. This 'train oil' was collected for use in lamps or sold for use in the tanning industry.
Even before 1800, Polperro pilchards were sold far and wide, including Italian ports such as Livorno. The fish was purchased almost exclusively by Italian Catholics for religious fasting. Hence the traditional toast of Cornish fishermen:
Here's a health to the Pope; may he never know sorrow,
With pilchards today and pilchards tomorrow.
Good luck to his Holiness; may he repent,
And add just six months to the length of his Lent;
And tell all his vassals from Rome to the poles,
There's nothing like pilchards for saving their souls.
Later, in the 20th century, two Italians – the Teglio bothers – settled in Polperro and leased the fish store below Pallace Court (now the Polperro Museum) from where they exported pilchards to their home country.
Pilchard fishing declined from the mid-20th century, although small quantities of pilchards are still caught in Cornish waters today.