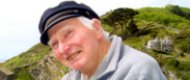 A tribute to Bill Cowan, who has died aged 97.
Posted on October 5, 2021
Bill Cowan, who died this year at the age of 97, came to live in Polperro in 1947, having been born in Plymouth and grown up by the Barbican. Apprenticed as a carpenter before the war, Bill joined the Royal Navy at the outbreak of war and his love of the sea never left him. He survived the sinking of one of the ships he served on in a bombing raid while another sank in a storm.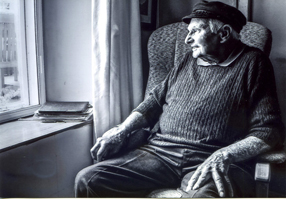 His post war career as a fisherman proved just as hazardous when, fishing out of Hull, he was part of the crew of a trawler fishing off Iceland when he was badly injured after falling down into the hold. The experience did not deter him from life at sea and once recovered from his injuries, he headed for Newlyn in search of a job there.
'I was walking along the harbour in Newlyn when I met Frank Oliver, skipper of the Patsy Ann which was registered in Polperro,' he later recalled. 'He offered me a job straightaway.'
Bill arrived in Polperro, living with the Oliver family for a while and eventually he and Frank went into partnership together.
'It was very hard going,' he said. 'There was no radio or life jackets. It was done with a compass and a clock. We would fish around west Cornwall for maybe a week and then come back to Polperro for the weekend.'
Bill stayed with the Patsy Ann for a few years, marrying a local girl, Madge Curtis, in 1952. Madge died in 1970 and five years later Bill married Fay Jolliff, eventually to become father, grandfather and great-grandfather to a large and loving family while also continuing to be very active in the village. He was a Trustee of the Harbour for over 50 years, during which time he was both Chairman and Harbour Master, eventually being made Life President.
Bill's most enduring legacy perhaps will be the Polperro Heritage Museum of Smuggling & Fishing which he was instrumental in setting up in 1994. Based in what had previously been the Teglio brothers pilchard factory in The Warren, it has proved to be a valuable asset to both the harbour and the village, visited every year by thousands of visitors.