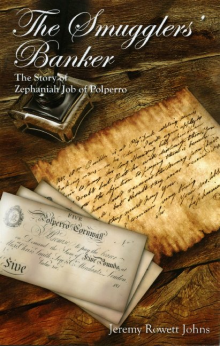 Also available as an ebook in
Kindle
and ePub formats.
THE SMUGGLERS' BANKER
by Jeremy Rowett Johns
The Smugglers' Banker reveals for the first time the full story of Zephaniah Job, the remarkable Cornishman who not only masterminded the flourishing contraband trade in Polperro during the Napoleonic wars but also the privateers whose adventures during the wars with France and Spain led to the capture of handsome prizes. Job's flair for business, his association with the Trelawny family and links with those engaged in the smuggling trade brought lasting prosperity to the inhabitants of this remote Cornish fishing village at the end of the 18th century. This exciting and very readable biography, full of new revelations of one of the most extraordinary figures in Cornish history and packed with details of Polperro families of the period, will delight both local historians and visitors to the area.
Paperback 176 pages, illustrated
ISBN 0 9530012 2 9
Reviews of THE SMUGGLERS' BANKER - THE STORY OF ZEPHANIAH JOB OF POLPERRO
"A rare, rich biography of Zephaniah Job of Polperro, a factual tale which reads like a novel" Cornish Guardian

"A fascinating tale full of incident... excellent value, and a thoroughly good read." South West Soundings

"Wonderful, and an absolute must for your bookshelf. The sort of book you can read again and again and never tire of." Cornish Forefathers Society Journal

"Absorbing biography" Western Morning News

"I recommend this book to anyone with a family history in Polperro." Cornwall FHS Journal

"Full of new revelations of one of the most extraordinary figures in Cornish history." Society for Nautical Research Newsletter

"This book reveals a great deal about a number of Cornish families. Essential for historians and a delightful insight for visitors and locals alike." Cornish World

"A most enjoyable book, based on sound research which has led to several new discoveries." Cornwall Association of Local Historians Journal

"An interesting insight into the modus operandi of merchants and mariners in a small port." Mariner's Mirror