Posted on July 16, 2012
The Glyndebourne Festival Opera presents the perfect opportunity to indulge in champagne picnics on summer lawns. Dating back more than 70 years, it attracts thousands of opera-lovers from London and further afield, especially for its Mozart, Handel and Janácek, staged in the acoustically brilliant multi-million pound modern auditorium that opened in the 1990s.
According to Debretts, the authority on all matters etiquette, taste and achievement, landowner John Christie, who inherited the 16th century country house, and his opera-singer wife Audrey Mildmay originally set up the festival as a showcase for small-scale productions of Mozart operas.
The London Philharmonic is the main resident orchestra for the duration of the festival. Operas are staggered throughout the summer months from May to August. They commence in the afternoon and are punctuated by a lengthy 90-minute interval during which dinner can be enjoyed on the extensive lawns, ideally in the form of a picnic.
Picnics can be pre-ordered along with porter service and furniture if required, and include champagne, lobster salad and Glyndebourne summer pudding. Better still if accompanied by a copy of Anabel Loyd's delightful new book, Picnic Crumbs – a Gathering of Picnics, Packed Lunches and Provisions at Home and Abroad. Anabel will be signing copies in the Glyndebourne shop on Thursday, 26th July.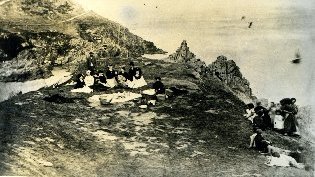 Nearly 150 years ago, picnics were largely the preserve of the gentry as this early photograph of the Trelawny family picnicking on Peak Rock overlooking Polperro harbour in Cornwall illustrates. The photograph was taken by Lewis Harding, grandson of Sir Harry Trelawny, the eccentric Cornish baronet whose religious odyssey led him from Calvinism via the Anglican church eventually to become a Catholic priest. The curious group of onlookers, doubtless belonging to the local fishing families, appear to be completely absorbed by the spectacle of the cliff top family picnic.