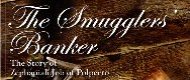 Posted on August 13, 2013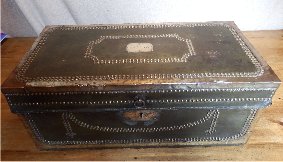 Remember the line from the song in Treasure Island:
'Fifteen men on a dead man's chest…'
Well, I've just unearthed the sea chest of John Quiller (1741-1802), the buccaneering smuggler and privateer of Polperro whose exploits have been the stuff of legends and yarns there for generations. He commanded the Brilliant, a three-masted lugger that was to prove one of the most successful Cornish privateers to venture against French shipping during the Napoleon wars.
Among the prizes seized by the Brilliant in 1793 was the Spanish ship La Tortola which, when sold by order of the High Court of Admiralty, yielded the astonishing sum of £8,800 for the crew and her owners. Privateer crews generally received no wages while they were at sea; instead, the proceeds were divided between the owners of the vessel and the ship's company, with each crew member owning an agreed share in the venture. In the case of the Brilliant, John Quiller held a quarter share as part owner and a further 64 shares as captain of the vessel.
As the Brilliant's commander, John Quiller's share of the proceeds amounted to £1,100, while Zephaniah Job, the 'Smugglers' Banker' of Polperro received £550 and Quiller's sons William and John their proportion each. Such prize money made the physical and financial risks involved in privateering seem small by comparison.
The sea took a terrible toll of the Quillers, however, claiming the lives of many of the male members of the family. John Quiller was drowned off Land's End in 1804, his son Richard was lost at sea in 1796 and two of his grandsons also off Tenerife in 1812. There is a chapter devoted to the family in my book, The Smugglers' Bank: The Story of Zephaniah Job of Polperro.
John Quiller's sea chest turned up recently at an auction in Plymouth and was bought by an antique dealer from Looe who fortunately tracked me down via the internet. Clearly identifiable from the inscribed brass nameplate on the lid, its leather-bound exterior and brass trim has now been carefully restored.