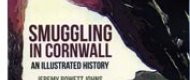 Publication of Smuggling In Cornwall: an illustrated history by Amberley publishing
Posted on March 13, 2016
As a publisher myself, I have found the experience of being published by another publisher somewhat strange and revealing.
My latest book, Smuggling In Cornwall: An Illustrated History is published this month by Amberley Publishing, a well-established imprint with a great many titles. It was commissioned a year ago and I duly delivered the text (17,000+ words) and 130 images in July last year. I even submitted some additional images that might be used for the cover.
I heard nothing more until a few weeks ago when I was shown the cover image for the first time. My initial reaction was one of disappointment; it didn't really seem to reflect the subject of the book and looked more like a crude redrawing of one of the images in the book. When I mentioned this to the commissioning editor (who has since moved on to another publisher) I was informed that it was too late to change.
How different, I reflected, to the rather more consultative process I adopt with my authors. The decision over the choice of cover image for a book must, finally, always rest with the publisher since it is a very important part of the marketing strategy. But I have never knowingly published a book with a cover that the author did not approve of. Indeed, maintaining a good and constructive relationship with an author is an important part of the publishing process. In my previous life at the BBC, it was known as managing the talent.
Amberley Publishing is a big operation and it publishes many new titles every month, but I have felt strangely excluded from the process of publishing mine. Apart from one perfunctory telephone call from a publicist, there has been little evidence of any promotion for it, let alone any involvement by me as the author.