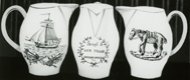 Posted on August 2, 2017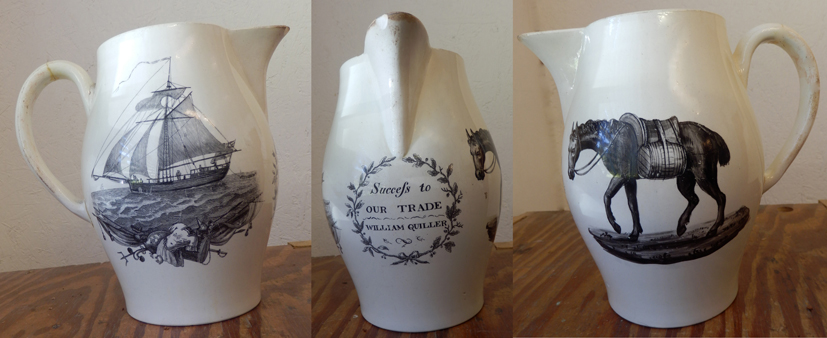 'Success to our Trade' was the toast of the Polperro smugglers in the 18th century. The 'Trade' in question was the import of contraband goods from Guernsey; huge quantities of rum, gin, brandy, tea and tobacco were shipped across the Channel to Cornwall and sold on once landed ashore. It was a risky if lucrative business that brought great wealth to a number of Polperro families, among them the Quillers.
The existence of a 'smuggling' jug that had once belonged to William Quiller and inscribed with the famous 'toast' has long been known. Indeed, an early photograph of it can be seen in the Polperro Museum. But the jug itself was thought to have been lost… until now, when it surfaced in the care of a descendant of the family and in remarkably good condition considering its age.
The creamware jug is typical of many commemorative jugs produced during the 1790s and early 1800s, except that it uniquely celebrates the smuggling trade. On one side is a picture of a lugger and on the other a pony laden with a barrel of what is presumably liquor of some sort; both representative of the smuggling trade that flourished in Cornwall at the time.
The jug originally belonged to either William Quiller (1765-1816) or his son of the same name (1790-1823). Both commanded a number of smuggling and privateering vessels during the Napoleonic wars and both probably perished at sea as did many of the Quiller menfolk. William Quiller's name crops up frequently in the accounts of the Polperro privateers that captured a number of valuable French prizes when Britain was at war with France.