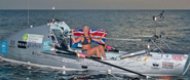 How to beat the Atlantic rowing records after brain surgery
Posted on July 16, 2018
When I wrote the last blog entry in February, our latest author, Kiko Matthews, was somewhere in the middle of the Atlantic ocean attempting to become the fastest woman to complete the crossing solo and unaccompanied.
At the time, neither she nor I knew if she would even manage to complete the crossing let alone break the world record for doing so, given that she was still recovering from recent brain surgery to remove a tumour from her pituitary gland.
Four weeks later, Kiko rowed into Port St Charles, Barbados, exactly 49 days, seven hours and 13 minutes after setting out from Grand Canaria, beating the previous record set by a French woman 15 years earlier by six days. It was a remarkable achievement by any measure, all the more so because she was on medication as she rowed, battling wind, waves and fatigue all the way.
Every day she would send a brief blog of her progress via satellite phone.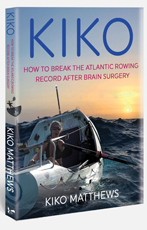 It is this, plus the story of her life leading up to the crossing itself, that has formed the basis of the book that she has written. Kiko: How to beat the Atlantic rowing record after brain surgery will be published in September. Not surprisingly, perhaps, it has taken her rather longer to write than it did to row across the Atlantic, but the account of her epic solo voyage, accompanied by dozens of amazing colour photographs taken on her phone along the way, make a very special publication.
As she says in the Introduction: 'It's an honest account of me, Kiko, and my solo row across the Atlantic. What got me there, my background, my thoughts on those who have helped me and some of the theories behind my mental strength. I really hope you can take something away from it. I want it to make you laugh, to think and inspire you to challenge yourself. If you cry, that wasn't the intention, but you never know! I want it to make you realise you can do anything. After all, I went to quite a lot of effort to prove to you that anything is possible if you want it enough'.