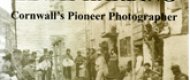 Posted on February 28, 2019
Some of the earliest photographs taken in Cornwall in the 18th century are the product of a patient of Dr Jonathan Couch of Polperro. The man in question was Lewis Harding (1807-1893); encouraged to take up photography as a therapeutic treatment following a nervous breakdown, he was the grandson of the erstwhile local squire, Rev Sir Harry Trelawny.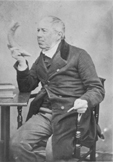 One of Harding's earliest photographs was of Jonathan Couch himself, pictured seated at Trelawne holding the tusk of an Indonesian wild pig in October 1856 (right). Photography then was in its infancy and the equipment required was cumbersome, so that almost all of Harding's later subjects were drawn from the residents of Polperro where he lived.
Many of them were local fishermen. Indeed, one of Harding's most notable legacies is a series of 80 head and shoulder portraits of Polperro fishermen and other village men. Among them, John Oliver the customs officer, Richard Curtis the local preacher, William Minards the boot and shoemaker, Joseph Geddye the landlord of the Three Pilchards Inn, all part of the fabric of village life in a Cornish fishing village 150 years ago.
Lewis Harding was using a collodion process. Discovered in 1846, it was made by dissolving gun-cotton with a mixture of alcohol and ether and was originally used to treat wounds, but in 1851 Frederick Scott Archer used it for the first time to coat photographic glass plates. The surviving sepia prints are still of a high quality, but more recently there have been moves to colourise them. The results are remarkable, as this portrait of William Adams (1814-1893) shows.