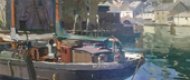 Mary Barrow schooner Polperro
Posted on May 13, 2020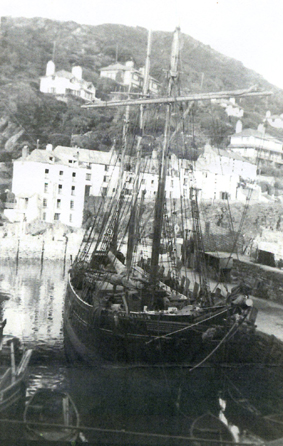 The Mary Barrow was one of the biggest vessels to visit Polperro harbour before the Second World War.
Built by W. K. Lean at Falmouth in October 1891 for South American hide trade, she was a beautiful three-masted topgallant schooner, was 103' long, 24' wide and 11' high. In 1894 two of her crew died of yellow fever. For many years she plied the Newfoundland fish trade and nearly came to grief during the January storms of 1908 when she was stranded on Porthminster beach, St. Ives (alongside another schooner, the Lizzie R. Wilce). Both ships were carrying coal from Swansea when they encountered heavy seas and a strong north-west gale while trying to enter St Ives harbour. She was refloated a week later under a reduced rig and continued to sail on the British coastal trade.
In 1926 she was fitted with an engine and managed by Couch of Fowey. In 1928 she was owned in Newquay but around 1932 she was sold to Captain Peter Mortensen of Truro and converted to auxiliary schooner, finding steady employment in the china clay industry to Scotland.
In September 1938 she was lost in fog off the Isle of Man and came too close inshore and was stranded on the Calf of Man while bound with coal from Truro to Ayr. The crew were saved but the sturdy old schooner was doomed. She was pounded by the storm during the night and when dawn broke she had been reduced to a pile of broken matchwood.